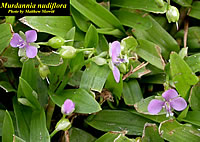 Phytochemical Standardization and Analgesic Activity of Murdannia nudiflora (L) Brenan
Our present communication deals with physicochemical parameters, preliminary phytochemical studies and pharmacological impact of Murdannia nudiflora (L) Brenan as analgesic plant which is used in folklore uses of Assam. No reports are available on standardization parameters hence, the present attempt was undertaken to investigate the standardization parameters to establish its authenticity. The study revealed the presence of wide range of phytoconstituents. The determination of these characters will aid future investigators in their Pharmacological analysis of this species.
The whole 8 pages article is available for download here.