Unique extract of fresh broccoli as the guard and stimulator of natural immunity
Member of Farmavita.Net offer license for use of registrered trade mark, results of clinical studies and other product documentation. License is binded to supply of bulk dosage form. Extract of broccoli is obtained by the unique method which preserves all its ingredients in their natural form found in the fresh vegetable. Contact us for more details.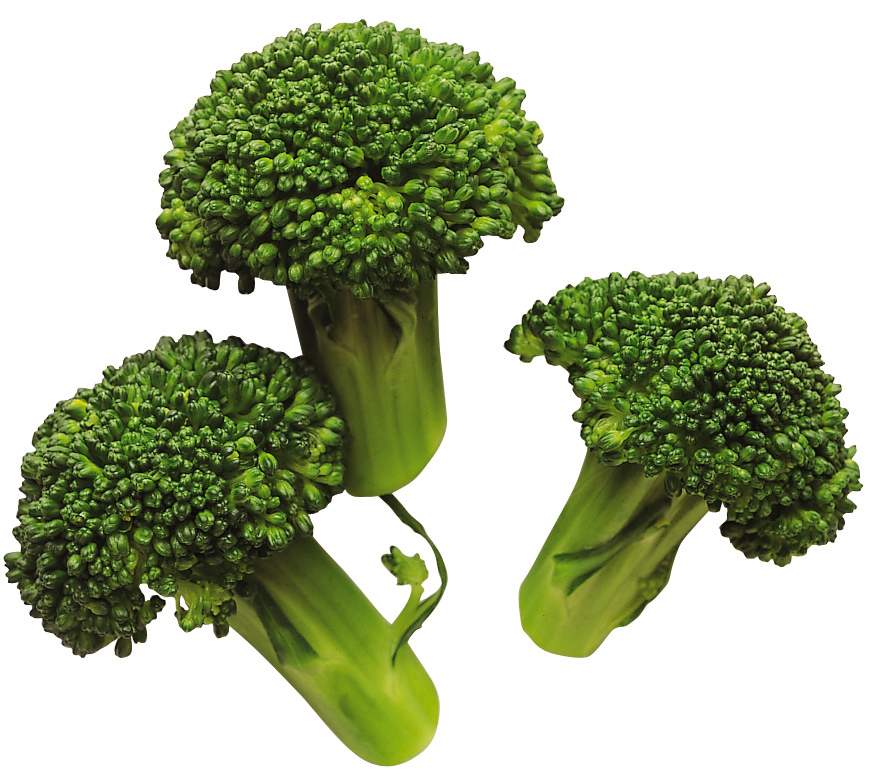 Investigations around the world, most in American medical centers, have established that compounds of glucosinolate group indol-3-carbinol and sulphoraphane, contained in fresh broccoli, stimulate detoxicating cell enzymes to intensified activity, thus ensuring the normal function of the cell.
The investigations have shown the disappearance of glucosinolates through ageing of the gathered broccoli so that after three days there are nearly no traces of them in broccoli. Our process is made up of anticipating and stopping the degenerative withering changes through quick extraction of water from freshly gathered broccoli, preserving in this way and retaining over the long run all the ingredients of broccoli. Process is carried out about room teperature with aim to avoid the thermal damage of the components.
Thanks to the rich content of minerals and vitamins, it is not necessary to supplement them from other sources as addition to the diet, since extract as a vegetarian component is an excellent supplement to daily diet. The completeness of its nutritious composition, low calorie value and high content of insoluble fibres which stimulate the regular and timely passage of food through the digestive tract, extract can be recommended as an almost irreplaceable component of a successful and harmless slimming diet. The broccoli chlorophyll contains two compounds: indol-3-carbynol and sulforaphan which have been tested in the following institutions:
and have been found to extremely increase the body resistance to the formation and development of tumours. We therefore recommend BROCCOLI EXTRACT as a daily supplement for strengthening the immune capacity of the body. It is specifically recommended for groups whose immune system has been weakened as in the following cases:

irregular and monotonous diet

smokers

people under medication
(antibiotics, chemotherapy, radiation, etc.)

before and after tumour surgery,

men over 50 years of age because of increased prostate.
BROCCOLI EXTRACT is also recommended for children of 12 years and over because of its high content of calcium and vitamin K which ensure regular and complete development of the bone mass (calcium) and its strength (vitamin K). For the same reason BROCCOLI EXTRACT is recommended for all age groups suffering from ostheoporosis (loss of bone mass).
DOSAGE
Recommended daily serving is 6 mg of glucosinolates and 300 microgrmas of sulphoraphane. Depending about assay of glucosinolates and sulphoraphane actual amount of extract may differ between manufacturers.
Risk groups are recommended to take multiple doses without danger of undesirable effects, because research has strongly confirmed that presence of lndol-3-carbynol and sulforaphan greatly increases the body resistance to disease.
Report on effects of broccoli extract to anticarcinogen enzymes activity in cigarette smokers
Smokers are a part of a population at a very high risk concerning health, and they are known to have chronic diseases as well as get all kinds of cancer. It is known that cigarette smoke relieves a number of structures, some of which have very strong oxidative, carcinogenic or toxic effects.
Research has shown that in almost every country in the world, 20-33% of the total population is smokers and that this percentage, despite strong and persuasive antismoking campaigns, stays more or less unchanged. This is easy to explain if we are familiar with the fact that smoker's habits are mostly obtained from the age of 12 to 18, and antismoking campaigns almost never have an effect on this age group. It is also known that nicotine causes very strong addiction which is very hard to get rid of when one gets older, despite a clear fact that smoking is hazardous.
Driven by the high immunological effects of extract, dietetic article - an extract of fresh broccoli, prof. dr. Ratimir Klepac, professor at The Faculty of Medicine in Zagreb, studied the effects of extract on reducing hazardous consequents of smoking.
This study was conducted on two groups of smokers. In each group there were 60 examinees from different age groups, equal number of women and men. All examinees were taking extract 3 x 2 capsules a day for thirty days. Studied samples of blood plasma and urine were taken on the days 0, 15th and 30th from the beginning of taking this medicinal product. In the first group the parameters of oxidative stress were monitored on the day 0 and after the 15th day of taking BROCCOLI EXTRACT (plasma only) and after the 30th day (plasma and urine). Comparing the results obtained before and after taking BROCCOLI EXTRACT, there were certain changes established which changed the biochemical parameters of oxidative stress in obtained samples.
It is known that under the activity of free radicals the organism produces a very chemically reactive form of oxygen O2 known under the name of super oxide radical. Its concentration in active smokers is very high, but under the activity of extract it is reduced in both plasma and urine, which is shown by the following measured average values:

URINE:

Day 0

super oxide O2

µM/mL/min = 6,90

Day 30



µM/mL/min = 5,79

PLASMA:

Day 0

super oxide O2

µM/mL/min = 3,10

Day 15



µM/mL/min = 1,36

Day 30



µM/mL/min = 1,28

From these results we can conclude that the studied dietetic article (broccoli extract) successfully decreases storing, and maybe even producing of free radicals in organism of smokers.
Successful indicator of hazardous activity of free radicals in organism is an increased degree of lipid damage, measured as a value of lipid peroxidation (free radicals segment the long lipid molecules in small aldehydes, from which is only malonaldehyde the one being designated in lipid peroxidation). High concentration of lipid peroxidation in urine and blood plasma in smokers is decreased towards the measured average values.

URINE:

Day 0

lipid peroxidation

µM/mL = 5,68

Day 30



µM/mL = 3,25

PLASMA:

Day 0

lipid peroxidation

µM/mL = 8,66

Day 15



µM/mL = 6,52

Day 30



µM/mL = 4,10

In both urine and plasma the values are decreased to the half, which is one more indicator of successful antioxidative effect of broccoli extract.
Against the oxygen free radicals which are normally produced in all cells, our organism has developed antioxidative defense constituted by different antioxidants and antioxidant enzymes. The most effective antioxidants in organism are reduced glutathione (GSH) and vitamins E and C. In this study we have measured the concentration of vitamin C and of a tripeptide GSH.
It is known that cigarette smokers have about 30% lower vitamin C level in blood plasma than non-smokers. An intense vitamin C increase was observed in this study.
Measured average values of vitamin C:

URINE:

Day 0

Vitamin C

µM/mL = 152,92

Day 30



µM/mL = 585,35

PLASMA:

Day 0

Vitamin C

µM/mL = 37,21

Day 15



µM/mL = 49,05

Day 30



µM/mL = 50,04

Similar ratio has been obtained by measuring reduced glutathione (GSH). This substance is the most important antioxidant in human body. It is synthesized by the organism in relatively small amounts, so people have to take it in daily with food, just like the vitamin C. In comparison to vitamin C, it is found in larger amounts only in some plants from species Crucifera, also in broccoli.
Nowadays it is considered that broccoli is the major natural source of GSH. In all studied smokers the amount of GSH was significantly increased. This shows, that without any doubt, extract has a large amount of GSH, which protects the organism of a smoker from hazardous activity of the free oxygen radicals.
Measured average values of GSH:

URINE:

Day 0

GSH

µM/mL = 1,29

Day 30



µM/mL = 2,96

PLASMA:

Day 0

GSH

µM/mL = 2,37

Day 15



µM/mL = 4,43

Day 30



µM/mL = 5,72

In this study we have also followed the activity of the enzyme named catalase.
Average measured values of catalase in plasma:

PLASMA:

Day 0

catalase

µM/mL = 5,13

Day 15



µM/mL = 6,46

Day 30



µM/mL = 8,32

In all examinees we observed an increased activity of the enzyme catalase after taking BROCCOLI EXTRACT. Based on these indicators it can be assumed that BROCCOLI EXTRACT increases the activity of primary antioxidants and antioxidative enzymes. After these results were obtained in blood plasma of the examinees, we have decided to designate the activity of specific enzyme XANTIN OXIDASE. The activity of this enzyme, which produces free oxygen radicals, has been enormously increased in all hypoxic states of the organism, e.g. ischaemic myocardium or brain impairment. It is also known that smokers are found to be lightly hypoxic.
Measured average values of Xantin Oxidase in urine:

URINE:

Day 0

xantin oxidase

µM/mL/min = 0,13

Day 30



µM/mL/min = 0,02

Like it can be seen from the above obtained results, the activity of this enzyme is decreased in the urine of smokers for over 80% after taking BROCCOLI EXTRACT, which shows another very strong antioxidative activity of this dietetic article. This has opened a possibility of studying the activity of BROCCOLI EXTRACT in people who have the symptoms of developing different hypoxic states.
In the other group there were 60 smokers from different age groups involved in the study, equal number of women and men. They have been taking 3 x 2 capsules of dietetic article BROCCOLI EXTRACT for 30 days (October 15th to November 15th 2004).
Up to date studies have shown that dietetic article BROCCOLI EXTRACT has numerous antioxidants. In the organism of a smoker, BROCCOLI EXTRACT degrades many oxidants from cigarette smoke known under the name of "free radicals" and with this action it reduces some of the difficulties incurred with longtime smoking.
After the new studies made in the USA published in the year of 2004, plants from species Crucifera, also in broccoli, have many organic composition - isocyanates - which in experimental conditions slows down and causes an apoptotic destroy of the tumor cells. At the same time these compositions activate the enzymes of the second phase of degrading xenobiotics, where are also the enzymes of degrading carcinogenic substances in human organism. Among these compositions the best studied is sulphoraphan, whose concentration is very high in broccoli. As BROCCOLI EXTRACT is a concentrated extract of natural broccoli, the concentration of sulphoraphan in this dietetic article is very high. In this study we have observed the activity of anticarcinogenic enzymes Quinone NADPH oxidoreductase (E.C.1.6.99.2) and glutathione S transferase (E.C.2.5.1.18). The highest concentration of these enzymes has been measured in microsomal fraction of human and guinea pigs liver cells.
Average values of anticarcinogenic enzyme Quinone reductase in blood plasma in 60 examinees - active smokers.

PLASMA:

Day 0

nM/mL = 5,52

nM/mg pr = 0,11

Day 15

nM/mL = 120,21

nM/mg pr = 2,10

Day 30

nM/mL = 91,26

nM/mg pr = 1,70

Average valuse of anticarcinogenic enzyme Glutathione s transferase in blood plasma in 60 examinees - active smokers.

PLASMA:

Day 0

U/mL = 4,42

U/mg pr = 0,075

Day 15

U/mL = 561,45

U/mg pr = 10,20

Day 30

U/mL = 324,82

U/mg pr = 5,97

Obviously, after taking BROCCOLI EXTRACT there is an increase of activity of anticarcinogenic enzymes in blood plasma of the examinees, because there are big differences between their activity before and after taking this dietetic article. This information confirms the results of studies made in the USA published in the year of 2004, that isocyanates from broccoli (sulphoraphan) directly increase the activity of anticarcinogenic enzymes. From the biochemical point of view these information talks about enormous enzymatic change, but at the same time this does not mean that there have been great health changes in examinees. These studies would get a full value if there have been observed standard clinical parameters in examinees at the beginning and in the end of the trials. Smokers daily take numerous hazardous and aggressive conjunctions into their bodies, together with cigarette smoke, which are strong cell oxidants or have carcinogenic potential. Observed from this point of view, BROCCOLI EXTRACT has antioxidative and, as proved in these trials anticarcinogenic potential, that can preventively help the health states of cigarette smokers. Based on the biochemical trials the knowledge itself, that BROCCOLI EXTRACT changes the activity of enzymes that degrade carcinogenic substances, talks about its profit to organism of chronic cigarette smokers. In our opinion BROCCOLI EXTRACT, as proven in these trials, has shown that it should be used by chronic cigarette smokers as a strong preventive support against risks of this hazardous habit.


Zagreb, December 2004.

This research is made at The Faculty of Medicine in Zagreb


Read also at Pharmaceutical Licensing Network

Newer news items

Related Items

Farmavita.Net - The Pharmaceutical Licensing Network