This section is about Pharmaceutical Regulatory Affairs
Regulatory Affairs News
Written by Editorial Team
Wednesday, 05 May 2010
Affordable On-Demand software for regulatory affairs professionals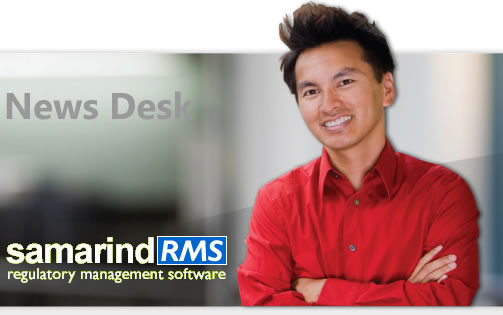 Read more...
Regulatory Affairs News

Wednesday, 17 September 2008

Embrace the eCTD and stay ahead

As one door closes, businesses must look for their next opening. Today, the traditional strongholds of the pharmaceutical industry, the US and Europe, are witnessing a downturn in growth to around 6% a year. This is the result not only of problems in the broader economy, but also the loss of marketing exclusivity by products in a number of major therapeutic categories; lower contributions from new products because of increased scrutiny of their value; and slower take-up by doctors and healthcare systems.

Read more...

Regulatory Affairs News

Written by Eva Bolger

Thursday, 11 September 2008

Implementation of a New Category-


"OTC Medicinal Products Subject to Sales Restriction"

The State Institute for Drug Control (SÚKL) has been preparing the implementation of a new category of supply of medicinal products, "OTC medicinal products subject to sales restriction" on the grounds of provisions of Section 39 (3) of the new Act No 378/2007 Coll., on Pharmaceuticals and on Amendments to Some Related Acts, asamended ("Act on Pharmaceuticals").

Whole 8 pages article is available for download at Repository of Faramavita.Net

Read more...

Regulatory Affairs News

Written by Jennifer Miller

Wednesday, 11 June 2008

Are Nanotubes related to Mesothelioma?

Nanotechnology is the emerging scientific field which includes the study of small, thin, carbon-based materials known as nanotubes (also called CNTs), which are becoming widely used in a plethora of products ranging from technologically advanced items utilized by NASA to everyday items used in the home. These nanotubes are increasingly popular due to their light weight and supreme strength, which is said to be stronger than steel.

Read more...

Regulatory Affairs News

Written by Linda Bren

Monday, 02 June 2008

Bacteria-Eating Virus Approved as Food Additive

Not all viruses harm people. The Food and Drug Administration has approved a mixture of viruses as a food additive to protect people. The additive can be used in processing plants for spraying onto ready-to-eat meat and poultry products to protect consumers from the potentially life-threatening bacterium Listeria monocytogenes (L. monocytogenes).

Bacteriophages are found in the environment. "We're routinely exposed to bacteriophages," says Zajac. "They are found in soil and water, and they are part of the microbial population in the human gut and oral cavity."

Read more...

Regulatory Affairs News

Written by Martina Ivanisevic

Monday, 12 May 2008

Drug Approval Trends at the FDA and EMEA: Process improvements, heightened scrutiny and response

Drug approvals in the US and Europe have become subject to approval delays, rising requests for further clinical data, and greater chances of rejection. Regulators are currently attempting to reconfigure review processes in order to minimize delays in recognition of the potential mass benefit of new applications.

Read more...

Regulatory Affairs News

Written by Miguel Gorj?o-Henriques

Tuesday, 29 April 2008

Pirates and Corsairs - The difficult equation Pharma-Parallel Trade

"In the legal debate (…), with a little bit of imagination, the undertakings who dedicate themselves to parallel trade could be compared with the pirates and those who defend their intellectual property rights could be compared with the corsairs, who received the "corsair patent" from their Government to attack the ships of the enemy countries.

Read more...

Regulatory Affairs News

Written by Brad Clemmons

Saturday, 02 February 2008

First FarmavitaR+ / regulanet conference


More than 25 participants met recently in Zagreb to explore and prepare for collaborations with the associates of FarmavitaR+ (FvR+) in Central, Eastern and South-eastern Europe.

Read more...

Regulatory Affairs News

Written by Administrator

Saturday, 02 February 2008

Marketing Authorisation for Medicines via Centralised Procedure in Turkey

Marketing authorisation could be laso granted for Turkey to comapnies on-going cantalised procedure by EMEA, according to investigation of FarmavitaR+ consultant from Istanbul, Turkey.

Read more...
<< Start
< Prev
1
2
3
Next >
End >>
Results 1 - 12 of 26